About Koch Air
Koch Air, LLC has been a distributor of Carrier products since 1936, and is the third oldest Carrier distributor. Today, Koch Air remains family owned and operated and is among the ten largest independent Carrier distributors in the U.S. What began as a distribution, installation and repair business has grown to focus solely on distribution and customer support. Nine branch locations are conveniently placed throughout the Midwest in Indiana, Kentucky, Illinois and Missouri. With a fleet of 26 delivery trucks, Koch Air can guarantee our equipment, parts and supplies are never far from a job site.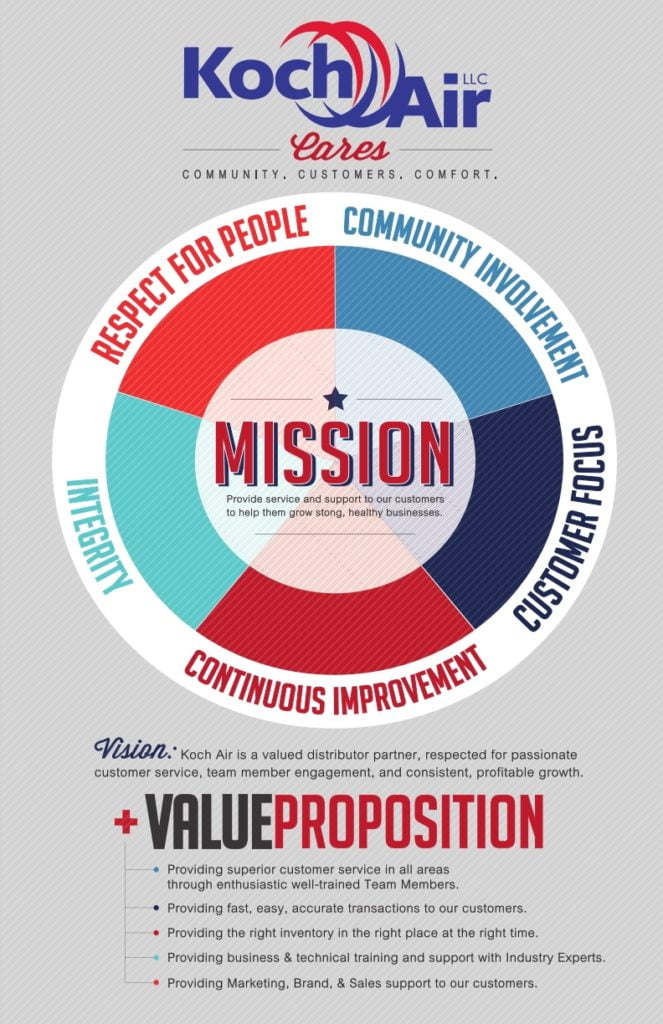 Our Values
Integrity
Do what is morally, ethically, and legally right
Conduct business in a manner that is beyond reproach
---
Respect for People
Treat people with dignity
Behave safely, professionally, and responsibly
---
Customer Focus
Understand our customers' business and anticipate their needs and wants
Make every interaction a positive experience for the customer
Create value for our customers
---
Continuous Improvement
Develop a culture of creativity and innovative problem solving
Identify and reduce waste in all business processes
---
Community Involvement
Improve our community
Encourage and support volunteerism
H3 Principles
We commit to engage our Hands, Heads, and Hearts (H3) to build a culture that delivers extraordinary levels of personal fulfillment and company success.
We commit to:
Champion Safety
Share a Clear Vision
Serve Internal and External Customers
Communicate Effectively
Appreciate Team Members
Develop Team Members
Embrace Continuous Improvement
Mission
We partner with our HVAC customers to help them grow strong healthy businesses
Vision
Koch Air is a valued distributor partner, respected for passionate customer service, team member engagement, and consistent growth.